DINOFACE!
With a fishface only a mother could love, a coelacanth fronts the cover of an American Scientist article on arrested evolution.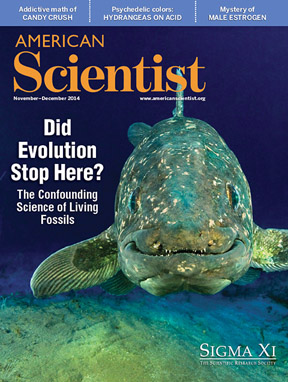 November-December 2014 Volume 102, Number 6
The discovery of a living species of coelacanth, a lobe-finned fish recognized as an important transition in vertebrate evolution, was a surprising and exciting find in 1938, because the fish was already widely recognized in the fossil record. Hailed as a living fossil, even though there has never been any fossil find of the two extant species of coelacanth, it is native to waters around Indonesia and in the Indian Ocean. Although fossil and extant coelacanths look strikingly similar, they do not demonstrate an absence of evolution. In "The Evolutionary Truth About Living Fossils" (pages 434–443), Alexander J. Werth and William A. Shear relate the unseen evolution of living fossils and discuss the definition and usefulness of this term, first coined by Charles Darwin. The image on the cover shows a face-to-face encounter between a coelacanth off the coast of South Africa and the renowned diver and naturalist Laurent Ballesta. (Photograph by Laurent Ballesta.)
Reading the article requires a subscription:http://www.americanscientist.org/
courtesy Rik Nulens
---
Co-discoverer of South African Coelacanths dies in diving accident.
June, 2014. In a sad development, Peter Timm and a diving companion, Adele Stegen, lost their lives in a freak diving accident at Umkomaas, SA, where they were under contract to recover scientific equipment lost by a research vessel. Both were considered among the best technical divers in South Africa. Timm was one of the discoverers of the South African coelacanths in 2000. Stegen was the first South African woman to see coelacanths in their natural habitat. See article on the South African discovery.
---
75th Anniversary of Coelacanth Discovery Celebrated
Grhamstown, South Africa: An international group gathered at SAIAB/ACEP (formerly, The J.L.B. Smith Institute,) to celebrate the December 1938 discovery of the coelacanth at East London- called, at the time, "the biological discovery of the century." One participant compared its discovery to the first human heart transplant. See discovery on this site for the original story, and SAIAB info for event news. (courtesy Rik Nulens)
---
Coelacanth DNA Sequenced!
Credit for four legged ancestor still goes to lungfish

.
In an April 17th, 2013, article in Nature, the authors (Chris Amemiya, a biologist at the University of Washington in Seattle, and Kerstin Lindblad-Toh, a comparative genomicist at Uppsala University in Sweden) who have worked on coelacanth DNA sequencing of the African coelacanths, Latimeria chalumnae, claim that the coelacanth's genes evolved more slowly than those of other studied fishes and vertebrates , including shark's, perhaps because of lack of predation and a stable environment. The research appears to add some validation to explanations that have already been speculated. Unfortunately for "Coelie" fans, they find the lungfish still seems the more likely vertebrate ancestor.
For a longer synopsis see:
http://www.nature.com/news/living-fossil-genome-unlocked-1.12809
---
Project Gombessa
A French Dive group, led by Laurent Ballesta, the same team that did the recent photos and film footage used by National Geographic, completed a new series of dives during a 33 day expedition at the Sodwana, South Africa, coelacanth habitat. They concluded by attaching a GPS to a coelacanth for tracking. The expedition was financed by Swiss watchmaker Blancpain. Some of the pictures and video appear at an exhibit sponsored by the company at the United Nations in NYC.
More info and a blog at:
http://www.coelacanthe-projet-gombessa.com/
---
Living Fossil EATs Junk Food!
On the 24th of May, 2012, an Indonesian/Japanese team of researchers reportedly "felt very sad" when they discovered plastic garbage in a coelacanth specimen's stomach. The specimen had been caught, July, 2011, in Indonesian waters. The fish showed a preference for Lay's Classic Potato Chips! The news was aired by the Manado Tribune on May 29, 2012.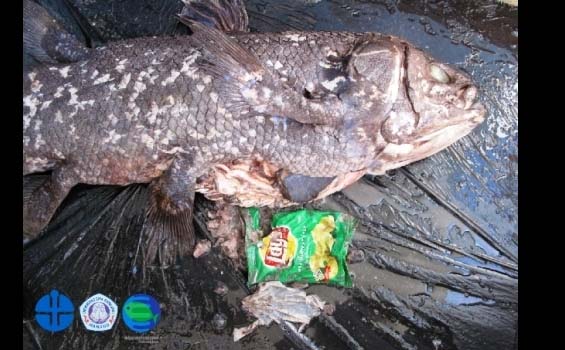 (Courtesy, Rik Nulens)
---