Coelacanth News!
---
Rik Nulen's Coelacanth News Summary for 2014
1) The tragic loss of Peter Timm, a name synonymous with coelacanths and conservation has shaken the diving, scientific and conservation community in South Africa and the world on June 18, 2014.
Peter (51) and his buddy Adele Steegen (45) died in a diving accident while helping find research equipment that was lost during a research cruise in 58m depth of water off Umkomaas near Aliwal Shoal. The equipment, owned by the Oceanographic Research Institute, was being used to sample biodiversity on the seafloor, as part of a multi-institutional collaborative conservation research programme led by Ezemvelo KZN Wildlife. Peter was well known with his co-discovery of the South-African Coelacanths in Sodwana Bay in October 2000. Adele was the first SA women - and second women ever - who was able to share some 'great moments' with a Coelacanth, named 'Grant', on March 5, 2014 at a depth of 116 metres. Peter and Adele were also team members of the great international coelacanth dive expedition held last year.
They are gone now from this world - forever - but never to be forgotten. Coelacanths will always help us to remember their names!
2) A fourth overview of changes/additions to the Smithiana publication 'An updated inventory of all specimens of the coelacanth, Latimeria chalumnae spp.' is also with this mail.
3) A coelacanth has been caught at Gangga Island, North Sulawesi (Indonesia) early November 2014. It is the seventh specimen caught in Indonesia. No further catches were recorded in the Comoros, Tanzania or Madagascar as far as I know.
4) Same as last year, many articles were published on genetic research on coelacanths. There were even several magazine editions specially dedicated on coelacanth research like the Japanese magazine Iden Genetics (120pp) and the Journal of Experimental Zoology - Part B: Molecular and Developmental Evolution (135pp), both editions with many specific articles. See the Bibliography for details.
5) A new translation of Samantha Weinberg's book 'A Fish Caught in Time' (1999) was published in August 2014. Now it is the translation in the Dutch language. Beside the original English Edition (UK & US) one can find and buy now Samantha's book in German, Swedish, Japanese, Chinese and Dutch language.
6) As mentioned last year, there was a great scientific expedition in South Africa. The French TV station Arte France TV in cooperation with Gill Kebaili and diver Laurent Ballesta now presented their video "GOMBESSA". There exist a long (90 minutes) and a short version (60 minutes) of this video.
7) Director Yoshitaka Abe and Coelacanth expert Masamitsu (Masa) Iwata from the Japanese Aquarium "Aquamarine Fukushima" also presented their Coelacanth book in 2014 with the title: "Coelacanth no Nazo - Rikujyoo Seibutso no Idensha metsu Sakana". Only available in Japanese.
8) The French "Monnaie de Paris" brought two new coins on the market in the series "Marine History". The coins of 10 Euro (silver edition) and 50 Euro (silver and gold edition) are depicting the nuclear submarine "Le Redoutable" with a coelacanth beside.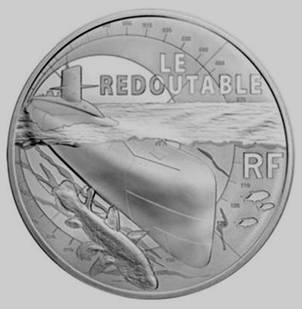 ---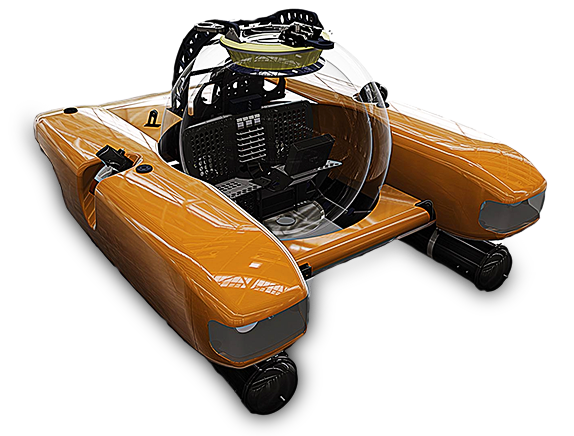 Dinofish Pacific Search
Inspired by dinofish.com's Pacific researches into possible coelacanth populations in a previousaly unknown area- conducted by site creator, Jerome F Hamlin and Diana Dyjak, a Japanese Televsion group plans a submarine follow up expedition. The group using a Triton 3300/3 Submersible will search in the Papua New Guinea / Solomon Islands area. As of now, the original researchers have not been invited to join the expanded expedition, although their research data has been requested. (In the coelacanth realm, the fish so often outclasses the humans!)
---
Mike Bruton's book wraps up fish!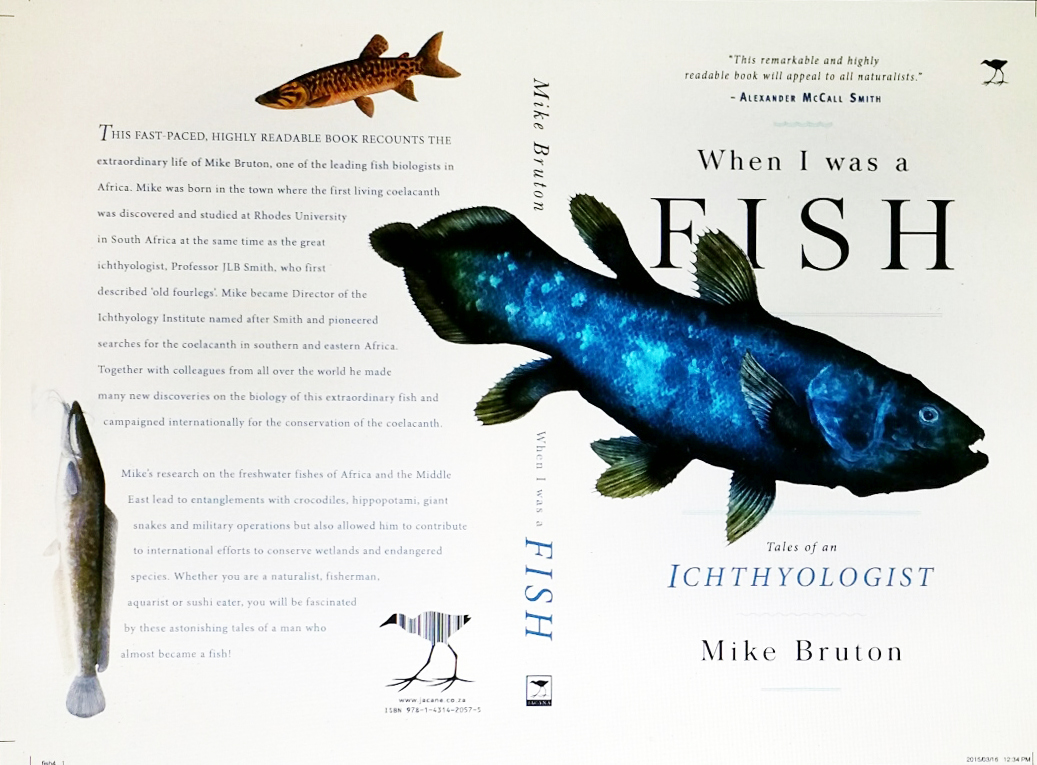 The former JLB Smith Institute director details his years of working with coelacanths.
click here for enlarged cover pdf
Courtesy Mike Bruton
---
DINOFACE!
With a fishface only a mother could love, a coelacanth fronts the cover of an American Scientist article on arrested evolution.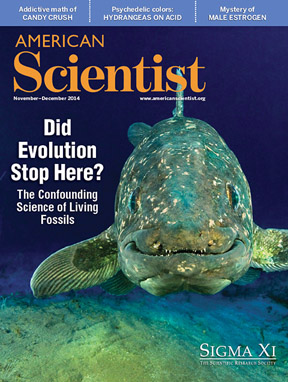 November-December 2014 Volume 102, Number 6
The discovery of a living species of coelacanth, a lobe-finned fish recognized as an important transition in vertebrate evolution, was a surprising and exciting find in 1938, because the fish was already widely recognized in the fossil record. Hailed as a living fossil, even though there has never been any fossil find of the two extant species of coelacanth, it is native to waters around Indonesia and in the Indian Ocean. Although fossil and extant coelacanths look strikingly similar, they do not demonstrate an absence of evolution. In "The Evolutionary Truth About Living Fossils" (pages 434–443), Alexander J. Werth and William A. Shear relate the unseen evolution of living fossils and discuss the definition and usefulness of this term, first coined by Charles Darwin. The image on the cover shows a face-to-face encounter between a coelacanth off the coast of South Africa and the renowned diver and naturalist Laurent Ballesta. (Photograph by Laurent Ballesta.)
Reading the article requires a subscription:http://www.americanscientist.org/
courtesy Rik Nulens
Co-discoverer of South African Coelacanths dies in diving accident.
June, 2014. In a sad development, Peter Timm and a diving companion, Adele Stegen, lost their lives in a freak diving accident at Umkomaas, SA, where they were under contract to recover scientific equipment lost by a research vessel. Both were considered among the best technical divers in South Africa. Timm was one of the discoverers of the South African coelacanths in 2000. Stegen was the first South African woman to see coelacanths in their natural habitat. See article on the South African discovery.
75th Anniversary of Coelacanth Discovery Celebrated
Grhamstown, South Africa: An international group gathered at SAIAB/ACEP (formerly, The J.L.B. Smith Institute,) to celebrate the December 1938 discovery of the coelacanth at East London- called, at the time, "the biological discovery of the century." One participant compared its discovery to the first human heart transplant. See discovery on this site for the original story, and SAIAB info for event news. (courtesy Rik Nulens)
Coelacanth DNA Sequenced!
Credit for four legged ancestor still goes to lungfish.
In an April 17th, 2013, article in Nature, the authors (Chris Amemiya, a biologist at the University of Washington in Seattle, and Kerstin Lindblad-Toh, a comparative genomicist at Uppsala University in Sweden) who have worked on coelacanth DNA sequencing of the African coelacanths, Latimeria chalumnae, claim that the coelacanth's genes evolved more slowly than those of other studied fishes and vertebrates , including shark's, perhaps because of lack of predation and a stable environment. The research appears to add some validation to explanations that have already been speculated. Unfortunately for "Coelie" fans, they find the lungfish still seems the more likely vertebrate ancestor.
For a longer synopsis see:
http://www.nature.com/news/living-fossil-genome-unlocked-1.12809
---
Project Gombessa
A French Dive group, led by Laurent Ballesta, the same team that did the recent photos and film footage used by Nationalo Geographic, completed a new series of dives during a 33 day expedition at the Sodwana, South Africa, coelacanth habitat. They concluded by attaching a GPS to a coelacanth for tracking. The expedition was financed by Swiss watchmaker Blancpain. Some of the pictures and video appear at an exhibit sponsored by the company at the United Nations in NYC.
More info and a blog at:
http://www.coelacanthe-projet-gombessa.com/
Living Fossil EATs Junk Food!
On the 24th of May, 2012, an Indonesian/Japanese team of researchers reprotedly "felt very sad" when they discovered plastic garbage in a coelacanth specimen's stomach. The specimen had been caught, July, 2011, in Indonesian waters. The fish showed a preference for Lay's Classic Potato Chips! The news was aired by the Manado Tribune on May 29, 2012.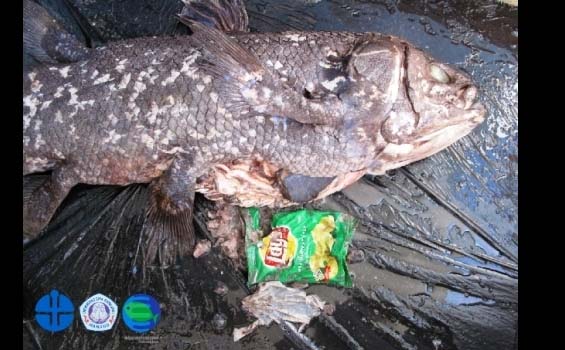 (Courtesy, Rik Nulens)
---
Masa Iwata (Fukushima Acquarium) was in Indonesia again after a break due to the horrible Fukushima earthquake and tsunami from last year. The ROV expedition started early May. In the first period (2nd - May 13th) he succeeded in filming 2 coelacanths in their natural habitat. The region was the same as where the juvenile coelacanth was found on the 6th October 2009. (Courtesy Rik Nulens)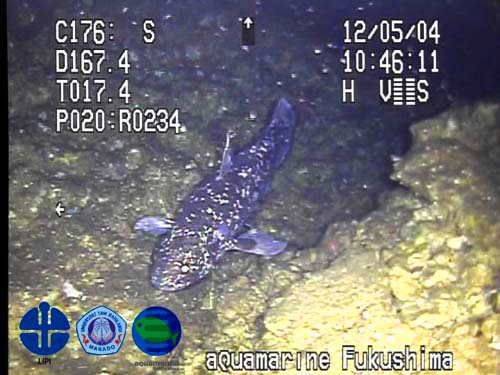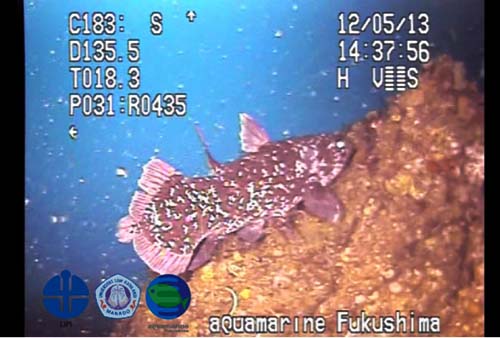 ---
Triton Dive Charters found several coelacanths during their Sodwana Coelacanth Expedition, March 2012. Coelacanths were found on 3 occasions (5 mixed gas dives were undertaken). On March 6, Peter Timm and his team encountered 'Noah', the 14th coelacanth, in Jesser canyon. Later, more coelacanths were seen and filmed/photographed. (Courtesy: Rik Nulens) During these dives, Eve Marshall, became the first woman to dive deeper than 100 m, using SCUBA, to see this special fish in its natural environment. (Courtesy Kerry Sink) Editor's note: Deep mixed gas diving is extremely dangerous, with long decompression times, and has involved multiple fatalities and near fatalities in search of the coelacanth. Don't try this at home! -JH
---
National Geographic Channel ran a program centered on the Sodwana coelacanths, "Preserving the Specimen." For background on the Sodwana coelacanths click here.
---
Remembering the hooked, the trawled, and the netted!
New Publication details all recorded Coelacanth Catches!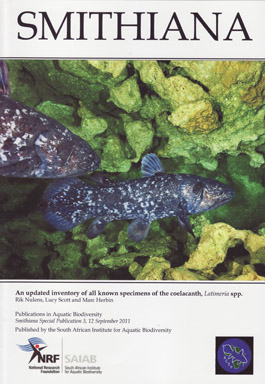 Years of painstaking research by "coelaphiles" Rik Nulens, Lucy Scott, and Marc Herbin, produce the most accurate account of coelacanth catches ever published.
Click here for printable abstract page.
Click here for printable order form.
---
Japanese scientists claim Tanga coelacanths genetically distinct from Comoran cousins
( Nov. 10, 2011 ) Researchers from the Tokyo Institute of Technology and other entities said the newly found breeding group of Tanga coelacanths linked to the site, has existed for more than 200,000 years without genetic contact with other groups.
The team published the results in an online edition of the Proceedings of the National Academy of Sciences of the United States.
Tokyo Institute of Technology Prof. Norihiro Okada and his colleagues analyzed genes of more than 20 coelacanths caught off Tanga, northern Tanzania, and nearby sites. The areas are nearly 1,000 kilometers north-northwest of the Comoros Islands.
The results showed the fish belong to a population genetically distinct from that off Comoros Islands.
The two groups seem to have separated 200,000 to 2 million years ago, the researchers said.
Considering the number of fish caught, the researchers assume the newly discovered population may comprise hundreds of coelacanths near the site.
This finding conflicts with the claims of German scientists that the Sodwana, South African coelacanths are genetically the same as the Comoran species. (See articles linked from the Recent History page of dinofish.com)
Another Coelacanth caught in Indonesia.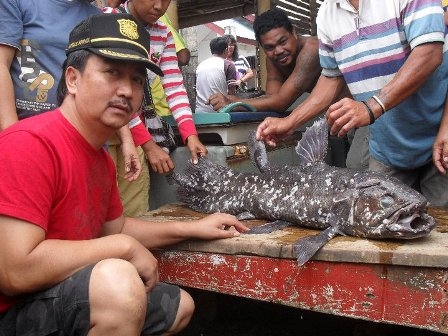 Capture Date: 21 July 2011. 17:00h.
Capture Place: Tatapaan, Amurang – Minahasa, Sulawesi Utara, Indonesia.
Fisherman's name: Oktavianus Cowan Kawalo
Weight: 13.1kg.
Length: 105cm.
Condition on capture: alive, dying 1.5 hrs later on the boat.
Method of preservation: Frozen.
Condition after capture: Good.
First ref. cited: Tribun Manado, 22 July 2011.
Current Holding: South Minahasa Fishery Office
Additional comments: Pictures taken. Descriptive name Indo 6. The fisherman went to the Tumpaan fish market where the specimen was recognized by Jefri Lamia as the protected Latimeria. Then the authorities from DKP (Department of Marine and Fisheries of North Sulawesi province) were informed and Mr. Arifin Kiay Demak came immediately to the Tumpaan fish market and took the coelacanth with him to freeze it.
(Courtesy Rik Nulens)
---
On March 11, 2011, Japan's Fukushima Aquarium was damaged by the tsunami following a massive earthquake. Initial reports indicated that the staff was successfully evacuated to the third floor, but when power to the life support systems was cut off, as many as 200,000 resident aquarium fishes died. Some marine mammals were removed to other facilities. The impact of this event on the aquarium's coelacanth search program is presently unknown to dinofish.com, however the aquarium is scheduled to reopen this July 15th.
During the November 2010 expedition, scientists from Fukushima Aquarium in Japan, in cooperation with the Sam Ratulangi University in Manado (Indonesia) were able to locate and film 5 coelacanths (in three dives) in Indonesia. With the ROV they traced these coelacanths close to Biak Island (Papua/Indonesia), about 1800km more East than the previous dive locations around Manado (North-Sulawesi).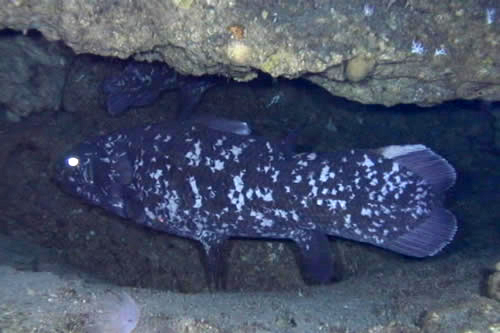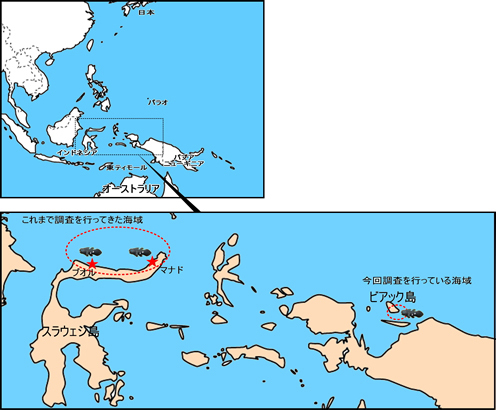 Later, three more were observed in the same area. (photo below)
Here are the results from the ROV investigations around Biak.
For the statistics…
11 November between 14:22 and 14:46 at a depth of 210m – 2 Coelacanths
13 November between 16:48 and 17:05 at a depth of 194.93m – 3 Coelacanths
15 November at 14:54 at a depth of 194.91m – 1 Coelacanth
One coelacanth has been seen twice, so in total 5 different ones.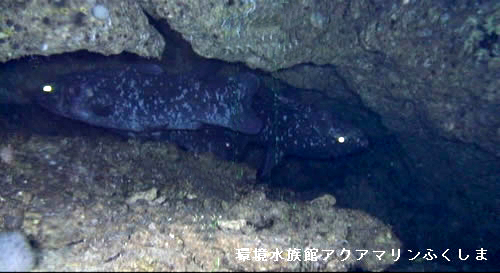 On September 21, 2010 a pregnant female coelacanth was caught North of Karanga Island, about 750 m from Nyuli sand bank, heading east, in Tanzania. The female had about 17-19 pups in her belly and has been preserved.
On 21/22 September 2010 and on 27 November 2010, two coelacanths were found in a shark net in Madagascar, West of Nosy Ve (Anakao) – Toliara in Madagascar. Both specimens are now preserved. Sad news came from Zanzibar a few days ago where the female coelacanth and her 23 pups, caught on 17 July 2009, had to be discarded because they had decomposed, due to problems in the electricity distribution on Zanzibar.
(Courtesy Rik Nulens)
First Filming of Living Juvenile Coelacanth
The sixth R.O.V. expedition of Japan's Aquamarine Fukushima, succeeded in locating and filming a juvenile coelacanth on October 6th, 2009. The fish was found in Manado Bay, North Sulawesi, Indonesia. It was measured by a laser beam to be 31.5cm. The expedition leader was Masa Iwata from Fukushima Aquarium. (Courtesy Rik Nulens).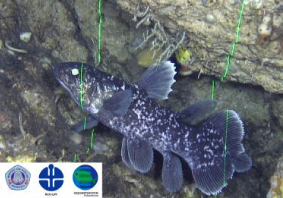 Click here for a video clip of the juvenile!
(courtesy Rik Nulens)
The same expedition that filmed the juvenile made a picture of six coelacanths in one cave. See the full account of the Fukushima expeditions on dnofish.com at Recent History/Fukushima. , and an account of the Indonesian Coelacanths at Recent History/Indonesian Coelacanths.
---