The world's most complete coelacanth bibliography links off the bottom of the Biology and Behavior page.
2022, Feb 25 and March 8: Two new sightings of coelacanths at Pumula, South Africa by Mike Fraser, his son Moo and friend Bruce Henderson. Photos and videos are at https://www.facebook.com/pumulamike
The significance is that this area is 330km south of the "known" population in Sodwana, South Africa.
(info courtesy Aryn Guiney)
COELACANTH UPDATES 2019
(courtesy Rik Nulens)
1)
50th Anniversary of the JLB Smith Institute, now South African Institute for Aquatic Biodiversity (SAIAB) & being 20 years a 'National Facility' of the National Research Foundation (NRF) in Makhanda (formerly known as Grahamstown), South Africa.
On 13th December 1968, the Council for Scientific and Industrial Research  (CSIR) and the Rhodes University in Grahamstown (now Makhanda) jointly resolved to establish the JLB Smith Institute of Ichthyology in a new building in Somerset Street in honor of JLB Smith, and appointed Miss Margaret Mary Smith (nee Mcdonald) as the first director.
The South African 'Science and Technology' landscape was in the transformative grip of the new Science and Technology Policy of National System of Innovation, and in April 1999, as of the beginning of the 1999 - 2000 financial year, the Department shifted the Institute to the new National Research Foundation (NRF) as a 'National Facility'.
[source: SAIAB 50 years - The Directors' Cut - Perspectives 1969-2019, edited by Miss Penny Haworth, November 2019]
2)
New coelacanth books !!!
Two announced publications from last year are available now:
• Mike Bruton, 'Curator and Crusader. The Life and Work of Marjorie Courtenay-Latimer'.
Paperback ISBN 978-0-6399326-9-9
• Lionel Cavin, 'Cœlacanthe : un poisson énigmatique'.
Paperback ISBN 979-10-318-0337-1
And a new one, published in Japan is also available!
• Masa Iwata, 'I want to see a living coelacanth!' (in Japanese only)
Book for children. Paperback ISBN 978-4-406-06364-7
3) Prof Hans Fricke retires !?
In a mail message Prof Hans Fricke wrote: …Nur eine Erinnerung, dass ich  nicht mehr als ganz Taufrischer noch im Wasser tätig bin, gerade kam ich vom Tauchen vom Roten Meer zurück…
Hans Fricke (born 1941) announced his new book to be published March 5, 2020 under the title:
'Unterwegs im blauen Universum', ca. 350pp.
Well illustrated with (mostly) colour images
.
Hard Bound book with dust jacket,
ISBN 978-3-86971-202-4
.
Of course, one will find the 'Quastenflosser' (Coelacanth) as well in this book.
4)
The Award winning
Coelacanth Brewing Company, 760 A West 22nd St. Norfolk, VA 23517 closed their doors after four years 2015-2019
Last year we wrote that the VIMS-coelacanth needed a new 'home' and the Coelacanth Brewing Company Norfolk (opened December 2015, founded and owned by Mr Kevin Erskine) joined forces with VIMS on May 11, 2017 to help raise money for a new tank so that the coelacanth can take her rightful place back in the visitor centre at VIMS. The slogan was "Come help this handsome bastard to get a new home. Every beer you buy goes towards replacing the tank!" was a great success which resulted that  April 2018 the opening of that new home at the VIMS Visitors Centre was a fact. The specimen remains in a 70%
ethanol liquid.
But now came the news to us that the brewery will close their doors December 29, 2019, definitely !
5)
We mentioned in an earlier overview that there is an 'unknown' coelacanth in the wet collection of the Great North Museum (the former Hancock Museum) in Newcastle upon Tyne (UK). Thanks to a note from the French scientist Daniel Robineau in the archives at the MNHN in Paris we know now that this is CCC 85. So from now on one can find this Newcastle specimen in the CCC records.
6)
NEW Coelacanth in Indonesia (CCC 306)
See the update for additional details
7) Two 'older' stuffed coelacanths were discovered.
One at the Museum in Charleville Mézières (CCC 307) and another one at the Pukyong National University in South Korea (CCC 308).
• The first one was a private gift from a former teacher who worked in a school in Mutsamudu, Anjouan. (personal communication with the responsible from the SHNA Museum in Charleville Mézières). The museum is closed since 1970 but the coelacanth is still there.
• The second one was a  presidential gift from the Comoro president
Ahmed Abdallah Abderemane to Korean president Chun Doo-hwan on occasion of his visit in Korea on October 15, 1986.
(personal communication with the responsible at the Pukyong University Museum)
8)
NEW Coelacanth caught Anjouan, Comoros (CCC 309)
See the update for additional details
In fact there are now the 323 specimen known, due to the 14 'Additional' coelacanths CCC Ad 1 .. Ad 14] in the catalogue
.
Several coelacanths from the MNHN in Paris are on display
f
rom 3 April 2019 until 5 January 2020 at the Exhibition "Océan une plongée insolite" in the 'Grande Galerie de l'Évolution' of the MNHN (Muséum National d'Histoire Naturelle) in Paris, France.
•
Skeleton of an adult set in resin = CCC 7
• Adult in formalin solution = CCC 8
• juvenile with yolk-sac in formalin solution = CCC 29.5
• young in formalin solution = CCC 94
10) Special issue on Coelacanths
It happens not so often but the Kitakyushu Museum of Natural History and Human History, (Kitakyushu,  Japan),  published in 2019 a special issue of their magazine dedicated on the coelacanth. It contains seven (7) articles written by an international team of researchers. Included are: Mawsoniid coelacanths, Triassic coelacanths, field surveys in Indonesia, the first observed living juvenile, morphological measurements on the seventh Indonesian coelacanth specimen etc. For details see the updated bibliography. Most of them are available online.
Other contributions on the Indonesian coelacanths were published in the Proceedings of the 10th INTERNATIONAL AQUARIUM CONGRESS FUKUSHIMA 2018
Theme: Think about Our Future on the Water Planet
Date: 2018. November, 7-10 at the Onahama Fish Market
(these contributions are online available)
11)
In South Africa, divers encountered a coelacanth on Friday 22 November 2019 at Pumula, some 330km south from the 'known area' Sodwana Bay ( iSimangaliso Wetland Park).
12)
Many of us were in East London (SA) to attend The International Coelacanth Conference* at the end of  October 2003 in the EL Town Hall together with Dr Marjorie Courtenay-Latimer, 'the guest of honour'. It was really an excellent opportunity for interaction between researchers, scientists, marine biologists, environmental educators, public aquarium managers and museum curators. 
Later, there was a possibility to visit 'Latimer's landing' at the EL Port, the restaurant & the jetty.
But since then the jetty at 'Latimer's landing' was degenerating and became dangerous. Now there is the good news that there are plans (and money) for the Proposed Rehabilitation and Refurbishment of the existing Latimer's Landing jetty at the Port of East London.
* This was the first header. Later, it was changed into : "The Coastal and Ocean Exploration Conference" to reach  a broader public.
"Makai"
Hawaii's Bishop Museum conducts a mesophotic (twilight zone) reef fish survey in the Solomon Islands, in search of new species, finding several candidates. Leader, Richard Pyle, notes temperatures too warm for coelacanths at most of the study sites. (Family, friends, fellow voyagers, and the scientific community mourn the loss of scientist-diver Josh Copus in a diving accident during the survey.)
NEW COELACANTH DISCOVERY IN SOUTH AFRICA!
Hundreds of kilometers south of the known colonies at Sodwana, diver Alan Fraser, and a group of friends, spotted a coelacanth near Puluma in late November, 2019. The sighting on South Africa's east coast, south of Durban, is reportedly the second shallowest ever recorded at 72 meters, and occurred in a submarine canyon near the mouth of a river. Apparently the group had been unable to get diving permits for Sodwana. There will undoubtedly be follow up dives in the area.
---
Biography on Marjorie Courtenay-Latimer
Mike Bruton, ex-director of the JLB Smith Institute of Ichthyology (now the South African Institute for Aquatiic Bodiversity) in South Africa, has followed the publication of his biography on Professors JLB and Margaret Smith ('The Fishy Smiths') with a comprehensive biography on the other key figure in the discovery of the first coelacanth, Dr Marjorie Courtenay-Latimer. Marjorie, who lived from 1907 to 2004, was the first director of the East London Museum (1931-1973) and an important pioneer in botany, anthropology, palaeontology, conchology and ornithology in South  Africa yet she is best known for her role in the discovery of the first coelacanth in December 1938.
Mike had access to rich unpublished source material for his biography, including the diaries of Marjorie's father, Eric Latimer, and Marjorie's own diaries, scrapbooks, letters and unpublished notes, and has produced a highly readable and detailed account of her fairytale life, often stranger than fiction. A mystery egg (is it a dodo's?), a wandering hippo, an enigmatic human skull, a secrat visit by a famous aviator, a mysterious monster, the most famous fish in the world (new insights on the coelacanth discovery), a museum ghost, and rugged expeditions into remote parts of southern Africa in the 1930s and 1940s to collect specimens, were just some of the ingredients in her colourful life.'
The book, 'Curator and Crusader. The Life and Work of Marjorie Courtenay-Latimer' (ISBN 978 0 6399326 99; 292 pages) was published in July 2019 by Footprint Press in Cape Town and can be bought directly from the publisher, David Hilton-Barber (david@footprintpress.co.za) .
---
A new coelacanth
[Indo 9 – CCC 306] has been caught in Papua Indonesia last Saturday [June 15, 2019]. Same area as the one captured last year [Sorong district].
The specimen is less than 1 meter in length. A team is there to do the measurements and the follow up so this time the specimen will be saved for further research.
Informative new book for young and (not so young) people is now out from Mike Bruton (see bio ref below.) Profusely illustrated, "The Amazing Coelacanth" fills the gap between Google and the many dense scentific publications. (Penguin Randomhouse, South Africa)
---
Cute Cardboard Puppet Cutouts retell story of the Coelacanth. Good intro for kids. Usual suspects narrate. Copy and paste link in browser. Inoperative off this site: https://www.nytimes.com/video/opinion/100000004105667/animated-life-coelacanth.html?playlistId=100000003465947
---
Coelacanth Wall Mural created in Moroni Comoros by a local art group, Swana Creative Studio, promotes the famous fish.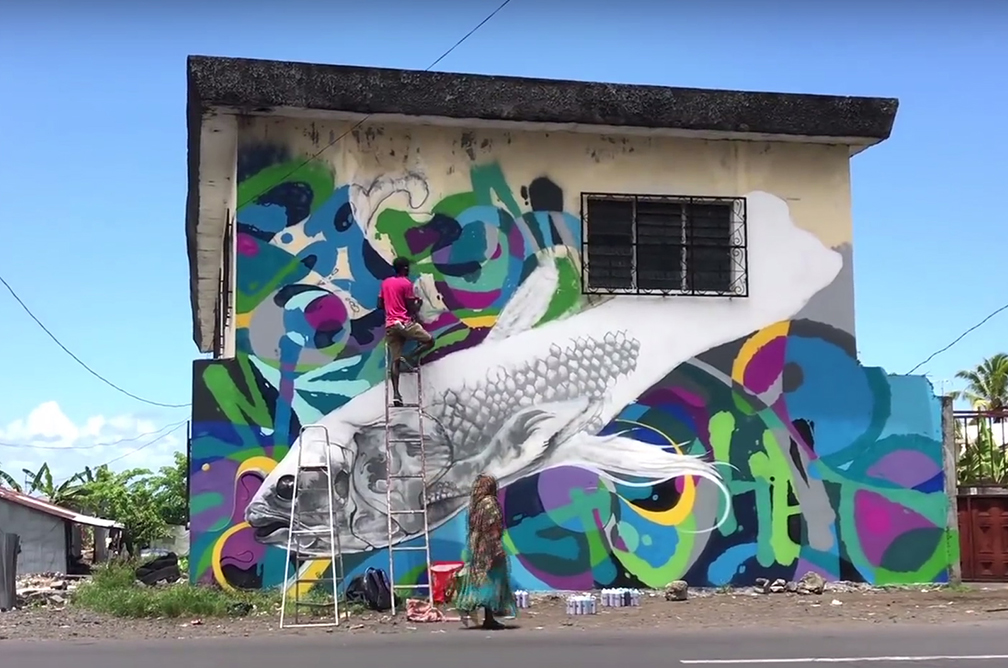 ---
Mike Bruton, former director of the J.L.B. Smith Institute (SAIAB), authors new book bringing the coelacanth up to date.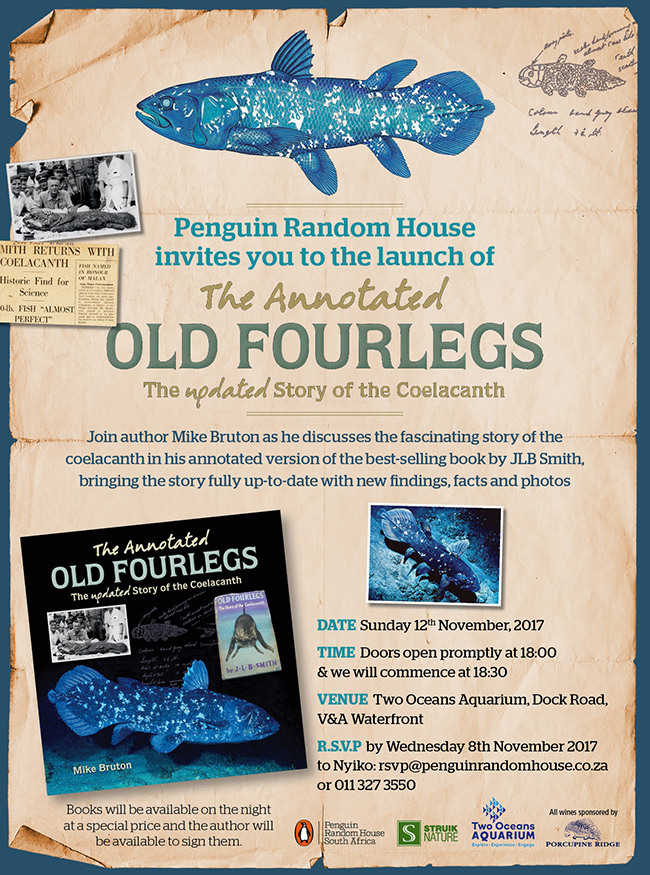 ---
Coelacanth News 2016
Coela-Center Persists 11 Years after Opening
The coelacanth educational center, situated on a lava flow mere meters from where coelacanths actually live in submarine caves off the Comoro Islands, was built by contributors to this site (see bottom of this news page.) Still functioning six years after its official opening in 2011, this is where I did my historic "Descent to Cave 4" -linked off the Recent History page- at a time when fewer people had seen coelacanths at depth than had walked on the moon!
(Photos courtesy Galina Vorona 2016)
---
Rik Nulen's Coelacanth News Summary 2016
1) We had to say farewell to Peter Lawrence Forey (1945-2016) who left us on January 21st, 2016 after a long illness. Peter was a phylogeneticist and fish palaeobiologist for many years at the Natural History Museum of London (UK). Peter was also interested in Coelacanths and many of us know his famous work "History of the Coelacanth Fishes" which appeared in 1998.