I thought about the coelacanth as a sample return with a NASA like moon rock flavor. I was big on NASA and the moon missions. The problem was an air charter for the return from the place where they lived. The Comoro Islands in the Indian Ocean was way beyond my means. I thought of writing Peter Gimbal, who had made a name for himself recovering the safe from the Andrea Doria and doing one of the first films on White Sharks (Blue water, White Death.) He had considerable means, and it's something that might interest him. But I never did. Then an enlightening piece of information developed. I had assumed the remote Comoro Islands were being serviced by puddle hoping aircraft something like the PBY's or Pan Am Clippers of yesteryear. Or maybe, Twin Otters to be more realistic. But no. This former French colony had weekly Air France Jumbo 747's doing the run from Paris. And that meant adequate storage capacity for a rather sizeable transport tank. Forget about Peter Gimbal.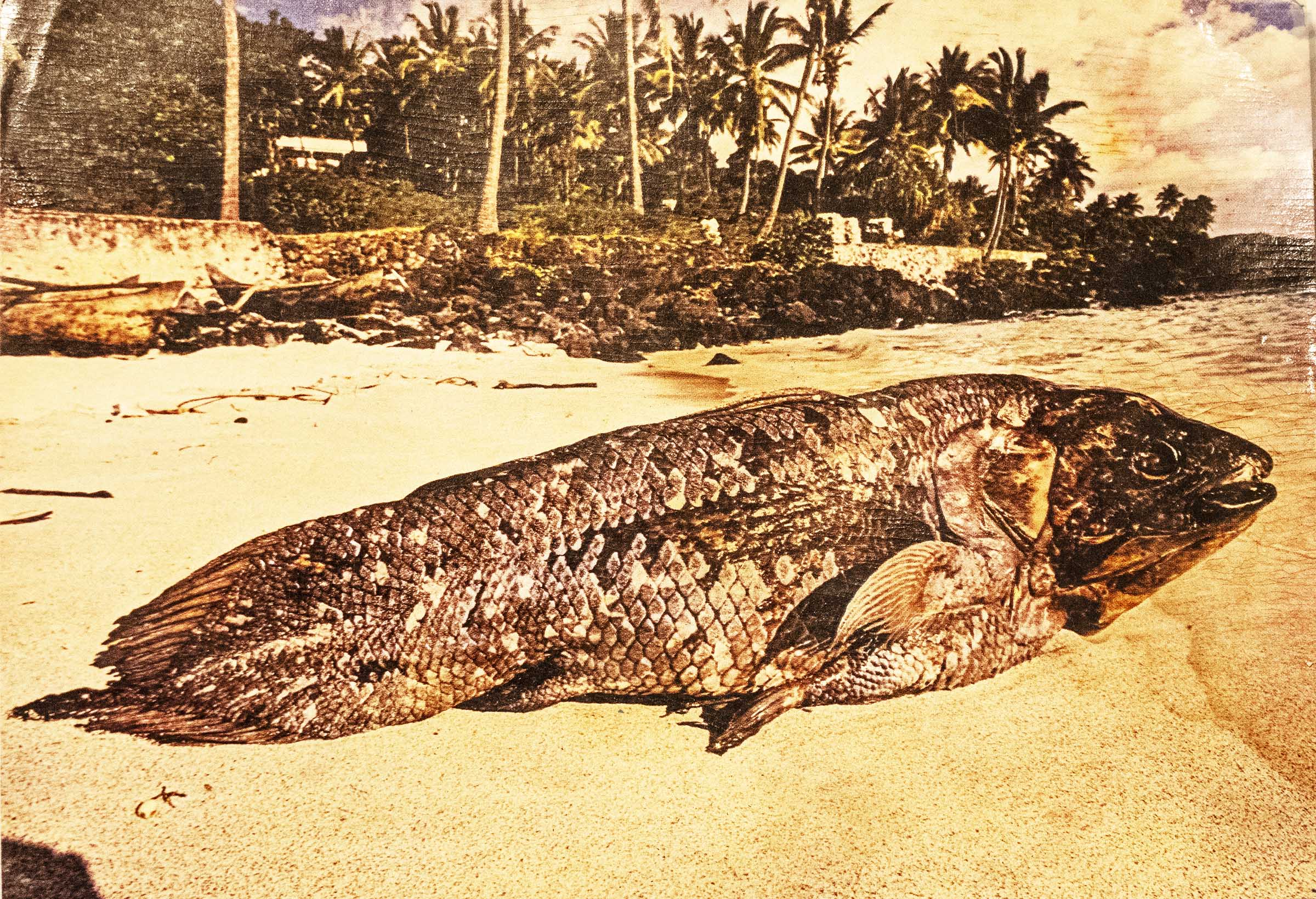 An old postcard supplied us with an early image of a coelacanth.
Planning for a reconnaissance trip to the Comoros began in 1986. I contacted two of the guys from the Ecuador trip, giving it some intrigue with "How'd you like to catch the Creature from the Black Lagoon?" One was interested. That was enough as he and the other weren't speaking any more. (Happens a lot after intense trips!) Then another friend from summer visits in Canada joined in- a semi pro fisherman. He was Peter, and the first was Paul. So I had either two disciples or the beginning of a singing group. Our reconnaissance trip to the Comoros would also be a recognized Explorers Club Flag Expedition, and it would turn out to be one of the most successful coelacanth expeditions of recent decades. The three of us flew via Paris and Jeddah, Saudi Arabia, to the Islamic Federal Republic of the Comoros in November, 1986. We hardly knew what we were getting into, and very little about the Comoros. They had a president, protected by a South African security force. People spoke French or the local Swahili. There was an American charge d'affaires. By chance we had met a man in New York who had married a Comorian, and he gave us a letter of introduction to the Governor of Grand Comoro, the largest of the four islands. We would stay there at the Gombessa Hotel. Gombessa was the local name for coelacanth.

We weren't there long when the action started. Roughly nine coelacanths were being caught each year then by fishermen using the traditional hand line fishing technique used for catching oil fish. Coelacanths were an accidental by catch. One was caught within days of our arrival. We were told when we were having morning tea and we raced down the coast in an old Renault to the town of Itsoundzou. The proud fisherman was squatting next to his capture. I took his picture and we also posed with the fish. Then we negotiated to purchase it as a specimen. Paul was fluent in French- far more than I- and he did the talking. We found a place for it in the hotel freezer.



Fisherman with coelacanth, 1986

Now we had time to do a little research at the local departments. Paul discovered that there was a Japanese group also visiting the islands for coelacanth samples, and he found a letter from the Max Planck Institute in Germany, also requesting a sample fish. Then one day he came back from a department and said we're f....d. He had a letter from one Raphael Plante saying that a German submersible named Geo was to come to the Comoros, solely for the purpose of filming coelacanths. Naively, I didn't see any threat from that as the purpose was different from ours, which was for a live specimen return. Besides, coelacanths had already been filmed by Peter Scoones for David Attenborough's Life on Earth series in the 70's, and even Jean Louis Gerod, who ran a dive shop at the Gombessa where we were staying, had filmed them, and was in negotiations with a Japanese group over the rights. But Paul would prove prescient.


Next